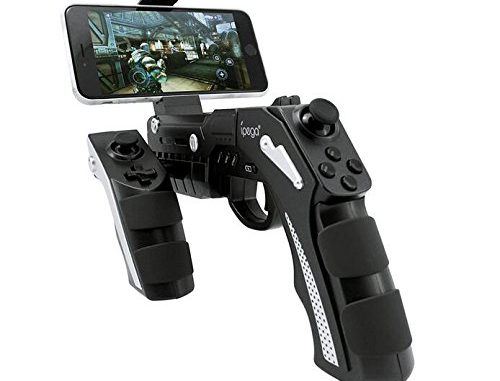 Fans of shoot-em ups and first person shooters, step right up as we introduce to you the revolutionary new iPEGA 9057 Phantom Shox Blaster Game Gun.  This realistic gun controller really immerses you into your game play as you can play all of your favorite shooting games on your tablet, smartphone or even your large screen smart TV.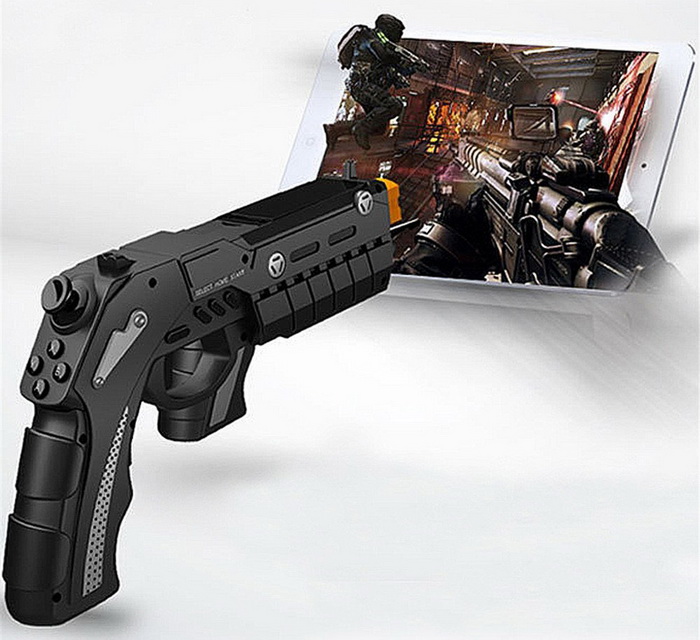 The IPEGA 9057 game gun connects to your device via Bluetooth technology (Bluetooth version 3.0) and it runs on all of today's popular operating systems like iOS for Apple iPhones and iPads, Android devices as well as Windows and TV set top boxes as well which is pretty cool. Minimum OS requirements across the various platforms are listed below:
Android – minimum version is Android 3.2 (Honeycomb) and higher.
iOS – minimum supported version is iOS 7 and higher.
This neat little gaming accessory also comes with built in motors that vibrate when you are firing your gun to give you that additional feel of realism during game play.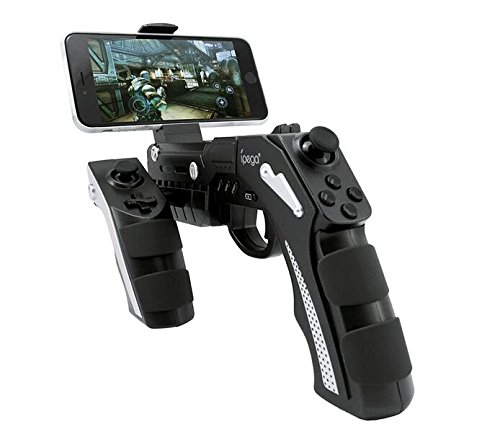 One of my favourite features is the cradle that is located on the top of the gun near the front area that can actually hold your smartphone in place which really makes first person shooter games fun to play.  In case you were wondering what was the limit to the size of of phone that can fit in the cradle, it is about the size of a 6 inch smartphone which basically equates to pretty much being compatible with every modern day smartphone that is on the market today, including some phablets!
Many of the modern FPS games that run on your smartphone leverage the internal gyroscope so you can literally move your body around while holding the gun and you will also move the same way inside the game itself which is a great feature. Furthermore, with the availability of low cost virtual reality hardware available today that is compatible with smartphone VR technology like the Samsung VR for example, you can imagine the gaming possibilities when using an Android powered VR headset with the IPEGA 9057 game gun!
The IPEGA game gun can be a most about 8 meters away from the phone, tablet or TV that it is connected to via Bluetooth 3,0 and thanks to the huge 6000 mAh Litium ion rechargeable battery you can get up to a whopping 25 hours of continuous game play (with the vibration option turned off) and about 12 hours with the vibration feature enabled.
The icing on the cake when it comes to this wireless game controller is the fact that it has all of the buttons, including the dual analogue nubs, that you would normally find on a typical game pad.  There are even the double L1 L2 and R1 R2 shoulder buttons as van be seen in the diagram below.
In summary, if you love first person shooter games and you are tired of using keyboards or even conventional gamepads then the IPEGA 9057 Phantom Shox Blaster Game Gun is for you.  I am guessing that if you are still reading this blog post, you are interested in buying one of these for yourself or for someone you know who loves gaming.  Well, you are in luck because you can get them online here.