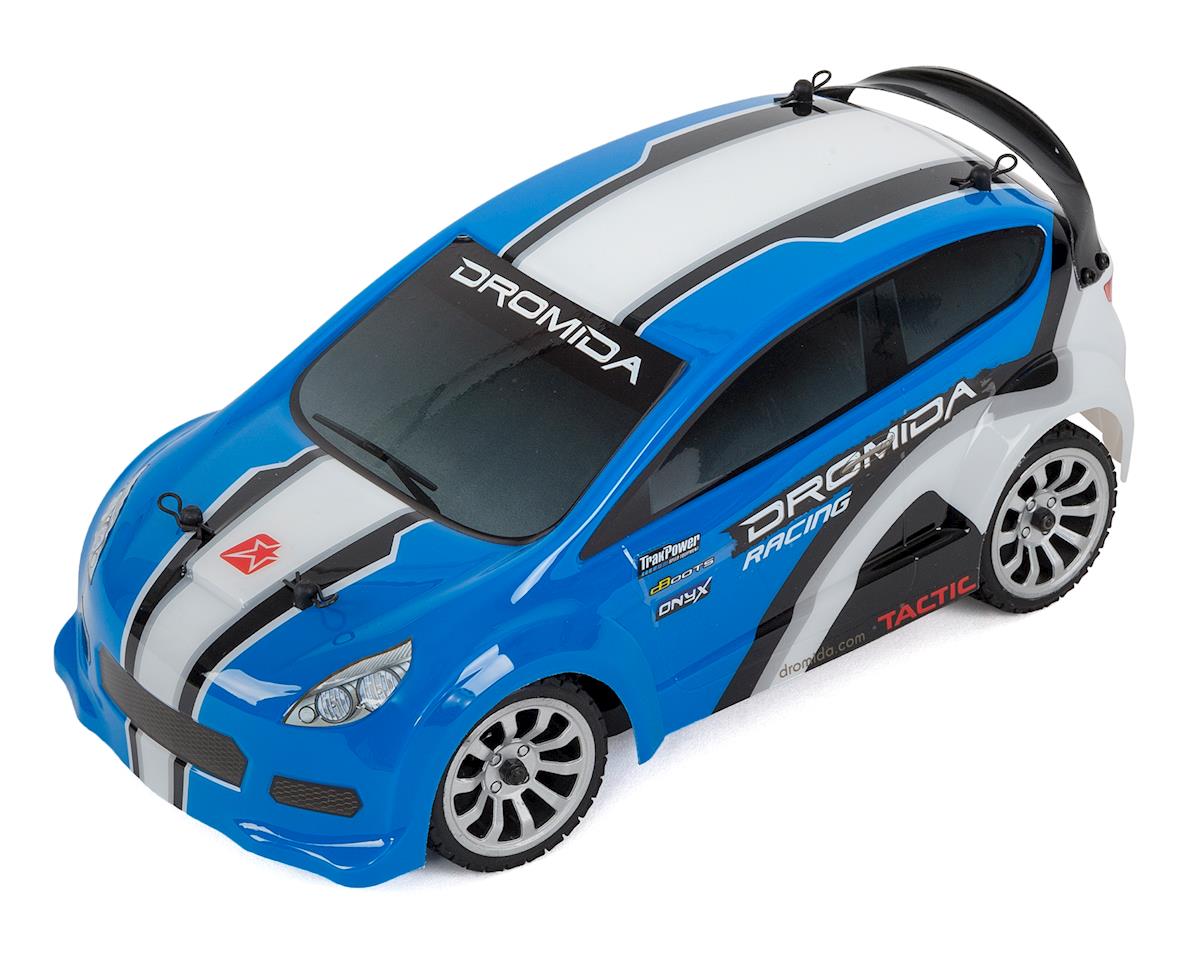 The Dromida Rally RC Car is a ready-to-run radio controlled rally car that can go as fast as up to 30+ mph. No, that is no typo, for it can truly reach speeds of up to 30 mph+. How is that possible you ask? Well the Dromida rally car comes in two flavours and that is brushless and brushed. If you want break neck speeds, the brushless version is the one that you want and if you prefer a car that can still zip along the terrain while going at more sober speeds then you can still have a lot of fun with the brushed edition of the Dromida Rally RC Car.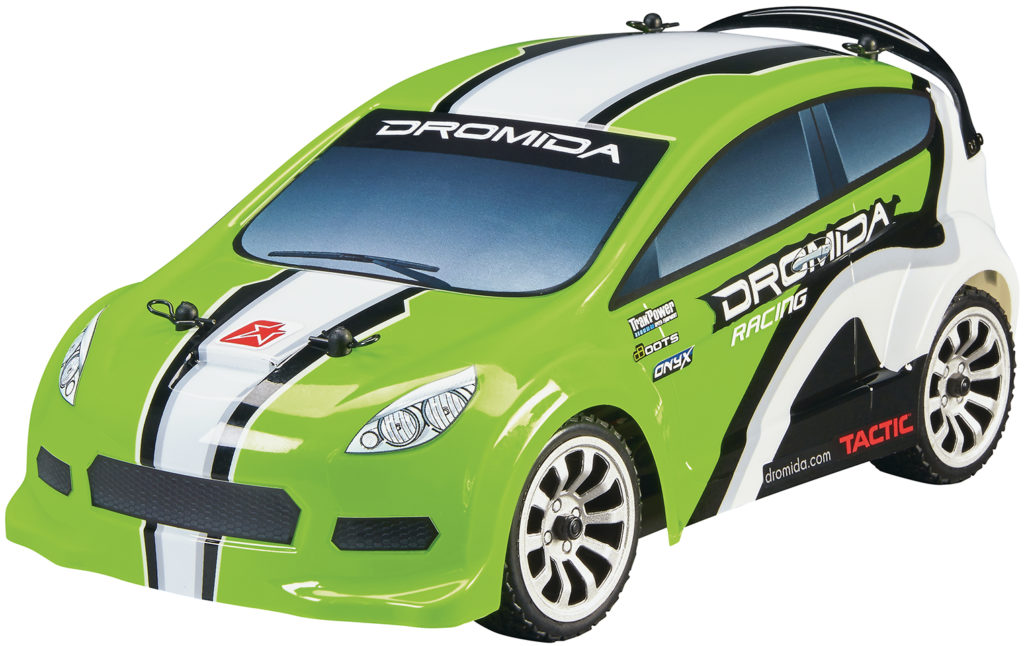 The car is truly ready to run. In fact all you have to do is take it out of the box, charge up the battery, put some batteries in the control unit and that's it. The rally car has an all wheel drive drive train and comes fully assembled with a powerful 5300kV brushless motor and a waterproof radio receiver unit that controls the speed of the rally car as well as the steering servo that controls the front wheels.
As previously mentioned the Dromida Rally RC car is four wheel drive and also has differentials in the drive shaft that ensure that there is an efficient transfer of power from the powerful brushless motor to wheels to give you that true rally driving experience on all types of wet and dry terrain.

The wheels are connected to the main chassis via oil filled shock absorbers and the wheels themselves have high traction foam filled rubber tires mounted on them. That combination of oil filled shocks and high performance grip tires will give you an very good driving experience indeed.
The radio control unit comes with two channels – one to control the speed and direction of vehicle travel and the other channel controls the steering servo. The transmission frequency of the controller is 2.4 GHz and there are also trim controllers for both the steering and throttle that can easily be adjusted to customise your driving experience.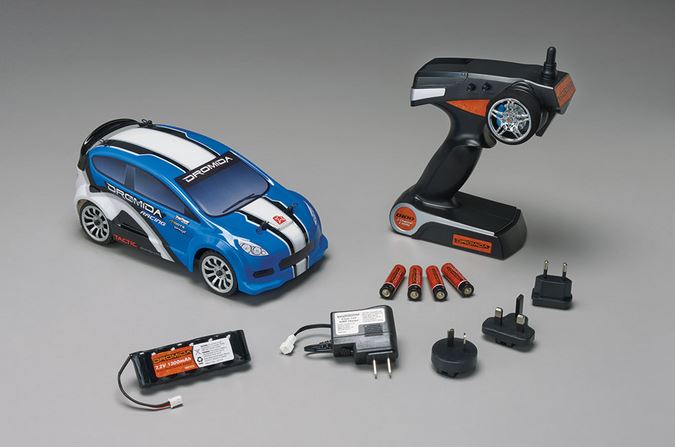 Just in case you are asking you get a true throttle experience when you press the accelerator on the controller. In other words you can control the acceleration. Slowly push the accelerator and the Dromida Rally RC car slowly accelerates. Quickly press down on the accelerator and the little car explodes off of the line in true rally form. I personally love driving this car on sandy and rocky surfaces and through puddles.
Other features include a rubberised front bumper which is designed to absorb the impacts from all of those times that you drive your ready to run dromida rally car into the garage door at speeds in excess of 30 mph. The stock battery is a 6-cell 1300mAh 7.2 volt battery which is designed to give you a very good driving experience for as long as possible – I have personally been able to drive this car around for about 12 to 15 minutes before the battery runs out.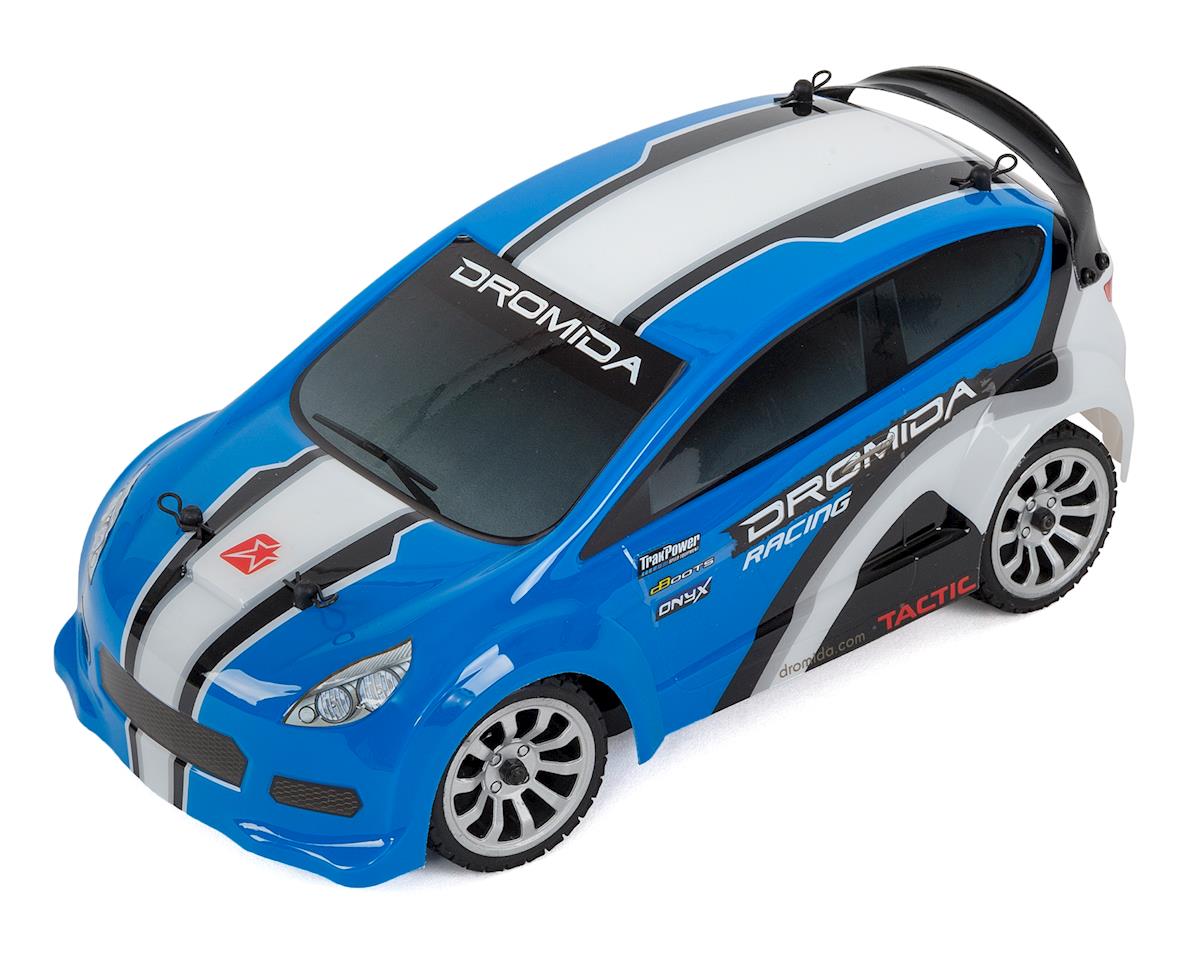 The car also just look stunning, with its rally look – it looks like a rally ready Ford Focus – and also has a very low profile look. That low profile look comes about by the very low centre of gravity which also makes the car very stable at high speeds and makes cornering fun.
If you are like me and you want to get your hands on one of these cute cars for yourself then you can get them from the Amazon store here. Have fun!